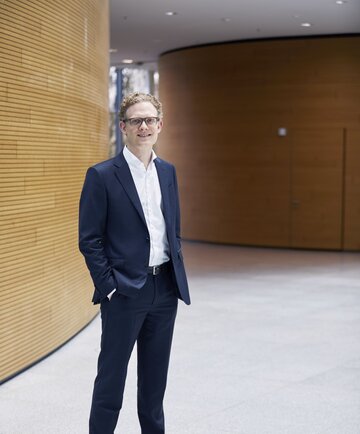 A passion for science, strategy, and advocacy – and for his clients' interests
James M. Ogle is a partner in HOFFMANN EITLE's biotechnology practice group. He draws on many years of experience in European and UK patent law while remaining a passionate scientist at heart. James is a strong advocate, a careful strategist and a perfect choice of counsel for the most complex cases.

With his team, James handles a large practice covering EPO oppositions and appeals, patent filing and prosecution at the EPO and worldwide, SPCs, and all kinds of opinion work. James acts for diverse international clients from across the spectrum of the life-sciences – some of very high profile and involved in patent litigation, others building IP strategies in their start-up phase.

His practice has given him experience in a broad range of technical fields, including medical uses of RNA and other nucleic acids, gene therapies, the microbiome, mammalian genome engineering, antibodies, new types of binding molecules for use as therapeutics and otherwise, vaccines, immunotherapies, and many others.

James studied biochemistry at the Universities of Regensburg, Oxford, and Cambridge. His first scientific publication was of his undergraduate research at the interface of chemistry, enzymology and structural biology with Sir Jack Baldwin in Oxford. James's PhD research in Cambridge provided fundamental insights into how the ribosome decodes mRNA to make proteins – part of ground-breaking work for which his PhD mentor, Venki Ramakrishnan, was in due course awarded the Nobel Prize (2009). The results of James's PhD were published in Science and Cell and today feature in standard textbooks. His studies were supported throughout by strictly selective, merit-based scholarships (the German "Studienstiftung des Deutschen Volkes", "Bavarian Scholarship for Highly Gifted Students" and the Boehringer Ingelheim Foundation). Based on his PhD, James was awarded a prize research fellowship position at Trinity College, Cambridge.

James joined the patent profession at HOFFMANN EITLE Munich in 2004, trained and worked in London with another leading IP law firm in 2006-2012, and qualified as a European Patent Attorney and UK Chartered Patent Attorney in 2008.

James stems from a fully bilingual German and English background and is also fluent in Spanish and French.

To recharge, he enjoys playing the violin and other instruments, mostly in world music and jazz.
Certificate in Intellectual Property Law, Queen Mary College, University of London, UK
PhD in Molecular Biology (University of Cambridge, UK)
University of Regensburg (Biochemistry, Diplom, Germany)
British Patent Attorney (2008)
European Patent Attorney (2008)
CIPA (UK)
German Patent Attorney Bar Association (Foreign Member)
epi