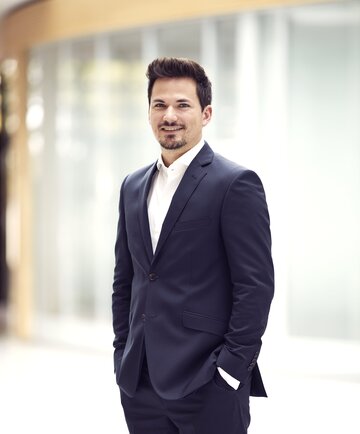 Developing convincing arguments even in seemingly dead-end situations is his passion.
Fabian Hötzel is a patent attorney in HOFFMANN EITLE's mechanical engineering practice group. He focuses on advising internationally active companies from areas such as heating, ventilation, and air-conditioning (HVAC), hygiene products, security solutions, medical devices, and coating techniques. In particular, Fabian specializes in prosecution and oppositions before the European Patent Office and the German Patent and Trademark Office as well as in patent drafting. As a physicist, Fabian also has special knowledge in the fields of nanostructures, surface science, and measuring technology.

During his several years of research in physics, Fabian learned to understand complex issues quickly, solve problems in a structured manner, and get to the heart of facts. These skills now greatly benefit him in his daily practice in protecting intellectual property, especially in identifying the core of the invention and defining the strategy for obtaining and defending the broadest possible scope of protection for his clients.

Prior to joining HOFFMANN EITLE, Fabian studied physics at the Universities of Konstanz and Heidelberg and completed his doctoral thesis at the Kirchhoff-Institute for Physics (Heidelberg University) in the field of infrared spectroscopy on one-dimensional metal atom chains on semiconductor surfaces. He is author of numerous scientific publications.

As a balance to office work, Fabian practices kickboxing.
Dr. rer. nat. in Physics at the Kirchhoff-Institute for Physics (Heidelberg University)
M.Sc. in Physics at Heidelberg University
B.Sc. in Physics at the University of Konstanz
German Patent Attorney
European Patent Attorney
Representative before the Unified Patent Court
German Patent Attorney Bar Association
FICPI
German Physical Society (DPG)