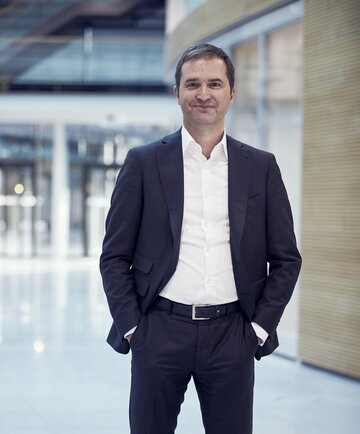 An E-Tech patent attorney relied on by professionals around the world for pragmatic and targeted oriented patent strategies
With well over 15 years of experience in the field of intellectual property, Dominik Scheible's practice focuses on computer implemented inventions and "classical" electrics and electronics. The former in the fields of datamining, bioinformatics, controls and apps; the latter in the fields of energy supply, electric vehicles and circuitry. Dominik represents many international corporations but also has direct links to local companies which allows him to be as close to the innovation as possible. He also enjoys excellent relationships with inhouse IP professionals, which allows for short communication paths delivering efficient results.

Having joined HOFFMANN EITLE as a qualified patent attorney in 2008, Dominik has enjoyed building up the focus of his practice with colleagues in Europe and across Asia, assisting them in developing the best strategies for manoeuvring their IP activities not only in Europe but throughout the world.

He very much appreciates the personal contacts across the continents which have resulted in reliable and trustful working relationships which remain strong over the years. His international activities include the engagement as a lecturer in conferences and conventions as well as for inhouse training inside the client corporations.

Prior to his career as an IP professional, Dominik completed his university studies and doctoral thesis at the Ludwig-Maximilians-University of Munich, with guest research exchanges at the Imperial College, London, the University of Wisconsin, Madison, and the Russian Academy of Sciences in Chernogolovka. Dominik has a diploma degree in physics and wrote his doctoral thesis in the field of nanotechnology.

In his spare time, Dominik spends time working with metals and enjoying the mountains and local lakes.
German Patent Attorney
European Patent Attorney
German Patent Attorney Bar Association
epi
FICPI
Deutsche Physikalische Gesellschaft