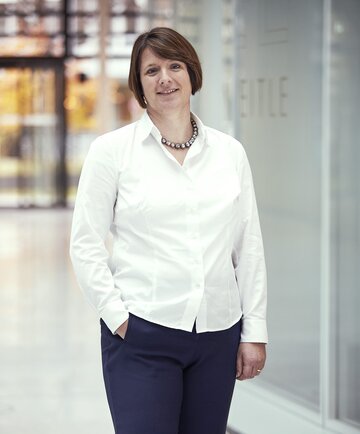 A Patent Attorney who is committed to both client's needs and the training of candidates.
Kathrin Füchsle has more than 20 years of experience as a patent professional and focuses on small molecule drugs and pharmaceuticals. She represents clients in examination, opposition and appeals at the EPO, the GPTO and the Federal Patents Court. Kathrin also provides opinions on patent matters, such as patentability, infringement and freedom-to-operate. In her daily work, she strives to get the best out of each case, both from a technical and a legal perspective.

Having passed both her qualifying examinations with outstanding results, Kathrin also commits herself to the training of candidates and is a member of the Board of Examiners for the German Patent Attorney Bar Exam.

Prior to joining HOFFMANN EITLE, Kathrin studied chemistry at the Technical University (TU) Munich. Subsequently, she worked as a scientist at the Forschungszentrum Karlsruhe where she was involved in FTIR spectroscopic studies on protein-ligand interactions. She holds a PhD degree in biophysics from the Goethe-University in Frankfurt (Main).

In her spare time, Kathrin enjoys yoga, tandem cycling and skiing.
German Patent Attorney Bar Association
Board of Examiners for the German Patent Attorney Bar Exam
epi
FICPI
GDCh
Dipl.-Chem., TU München
Dr. phil. nat., Goethe-Universität Frankfurt am Main
European Patent Attorney
German Patent Attorney