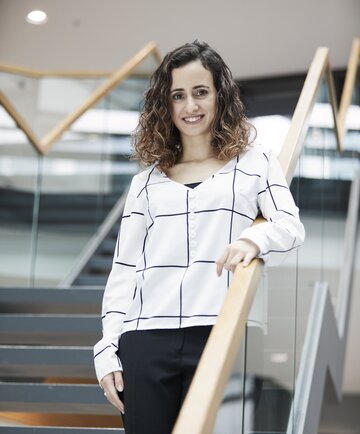 A passionate molecular biologist and IP counsellor
María Quirós Marín is specialised in molecular biology and has research experience in the areas of immunology, animal experimentation, microbiology (especially virology), cell culture, protein engineering and genetic engineering. She completed her doctoral thesis on the development of vaccine candidates against Hepatitis C virus in the Poxvirus and Vaccines Laboratory of the Spanish National Centre for Biotechnology and, as a result of her work, she is first author of several scientific publications.

María currently applies the knowledge and experience she acquired during her time in research to advise clients on issues relating to industrial property protection and technology transfer, including drafting and prosecution of European and Spanish patents, and drafting patentability reports and freedom-to-operate reports.

In her spare time, she enjoys reading and doing sports.
PhD cum laude in Molecular Biosciences entitled "Enhancing the immunogenicity of a hepatitis C vaccine (MVA-HCV) based on Modified Vaccinia Ankara Virus (MVA)" at the Spanish National Centre for Biotechnology (CNB-CSIC) (2014-2019)
Master's Degree in Biotechnology and Biotechnology Companies at Aliter, International Business School (2016-2018)
Master in Biomedicine at the Autonomous University of Madrid (2013-2014)
Degree with honours in Biology at the University of Granada (2008-2013)