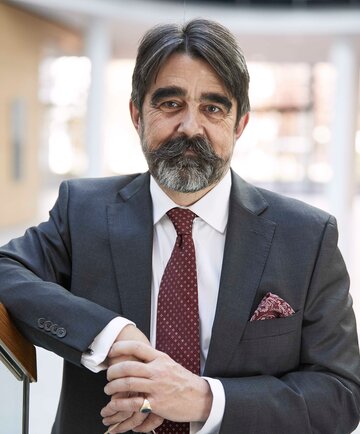 Rainer Zangs has been working as a German and European patent attorney at HOFFMANN EITLE in the field of electrical engineering and IT for more than 30 years. He began his legal career as a young graduate engineer at HOFFMANN EITLE, and shortly after completing his legal training, he became a partner of the firm. From the very beginning, he was fascinated by the exciting profession of a patent attorney, whose special challenge he recognized in representing his clients before patent offices and courts, but also in out-of-court negotiations with competitors, in a targeted and successful manner, based on a sound understanding of technical interrelationships. As an attorney who is both level-headed and assertive, he never loses sight of the client's interests despite all his commitment.

From an early age, Rainer was interested in scientific contexts and their technical applications. Designing and building high-end audio amplifiers and loudspeakers was one of his hobbies during his time as a student. Following his interests, he decided to study electrical engineering at the RWTH in Aachen after graduating from high school. For his diploma thesis, he did research at the RWTH hospital together with physicians of the Institute of Pathology and investigated the therapeutic effect of electric fields on tumor cells as part of a research project for the German Federal Ministry of Research and Technology (BMFT). He then gained practical experience as a graduate engineer at the Granus glass factory of Philips GmbH in Aachen. He joined HOFFMANN EITLE in 1987, became a German Patent Attorney in 1990 and a European Patent Attorney in 1992. In 1994, he became a partner.

In addition to his professional activities, he values spending time with his family and cultivating his circle of friends. He enjoys going on trips with his wife and is especially happy when their children, who are now grown up, join them. Besides various leisure activities, he has recently rediscovered an old hobby - audiophile music enjoyment.
German Patent Attorney
European Patent Attorney
German Patent Attorney Bar Association
epi