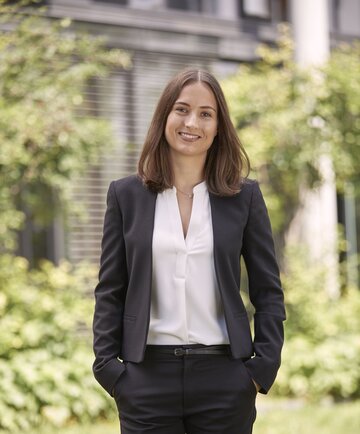 A dedicated bioscientist striving to translate science into intellectual property
Theresa Schönherr is part of the HOFFMANN EITLE's biotechnology practice group, currently training to become a German and European Patent Attorney. Theresa works on patent prosecution and assists in opposition procedures before the European Patent Office (EPO). As a trained biologist, her broad technical expertise lies in the areas of molecular and cellular biology, cell culture methods and antibodies.

Prior to joining HOFFMANN EITLE in 2020, Theresa spent several years in the United Kingdom, completing her studies at the University of York (BSc) and Imperial College London (MRes). Theresa pursued her doctoral degree (PhD) at the MRC London Institute of Medical Sciences/ Imperial College London in the fields of developmental epigenetics and metabolism, investigating the role of mTOR signalling in germ cells.

In her spare time, Theresa enjoys exploring the outdoors.