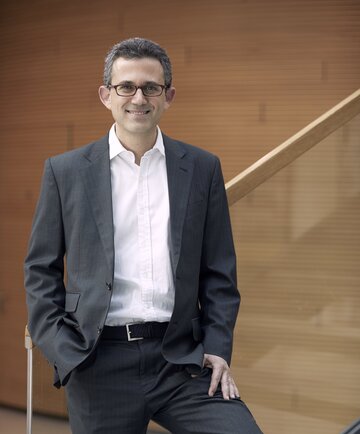 Luis Soriano is a Spanish attorney-at-law with more than 20 years of experience in IP. He was admitted to the Bars of Alicante and Madrid in 1996 and has also been a member of the Munich Bar since 2020. After finishing his studies in Alicante, Ireland and the United States, Luis Soriano Albert started his professional career in his hometown Alicante. The opening of the EUIPO in Alicante in 1996 influenced his specialization, being one of the pioneers in the Community trademark and design systems and being involved in the practice and development of these rights from the very beginning. His enthusiasm for his profession and for IP led him to personally file the first ever Community design application at EUIPO headquarters in January 1993. Luis is an expert in trademarks and designs and is qualified to act in prosecution cases before the Spanish and the German Patent and Trademark Offices, where he represents and coordinates the matters of Spanish and German companies in these large markets. Luis is a member of the trademark and design practice group in Munich and is the head of trademarks and designs in our Madrid subsidiary.

Luis enjoys working with each client individually to find the best solution to protect and manage their IP interests in Europe and worldwide. For many years, he has represented and advised large and medium-sized companies in major national and international trademark and design prosecution and litigation cases.

Luis is a dedicated professional determined to address the heart of matters. Legal market journals note that "Luis Soriano works with an optimal combination of legal techniques and a practical approach to dispute resolution" (IP Stars Handbook) and that he is a "leading IP expert" (The Legal 500).

Prior to joining HOFFMANN EITLE in 2018, Luis worked as an associate partner and co-head of the Alicante office of a renowned Spanish IP firm for more than a decade, moving on to work between its headquarters in Madrid and office in Luxembourg, and later as co-head of its China office and founding partner of its Munich office. He has published numerous articles and some books in the field of IP. Luis holds a Master's degree in IP (Magister Lucentinus).

When he takes a break from the IP world, Luis likes to spend time with his family in Munich, Vienna, Alicante, Paris, Havana and Seoul, where they enjoy travelling and exploring their multicultural and multilingual family roots.
Law Degree, University of Alicante (1996).
Specialization studies in American and International Commercial Law at the Universities of South Carolina (USA), Coastal Carolina College (USA) and Georgetown Technical College (USA) (1993).
Robert Schuman Module of the European Commission on EU Law (1998).
LLM IP Master in Intellectual Property, Magister Lucentinus (1999).
Spanish Attorney-at-Law
European Attorney-at-Law
Madrid and Munich Bar Associations
ECTA (Design committee and EUIPO-ECTA link committee)
INTA
LES (IP Valuation Committee)
PTMG