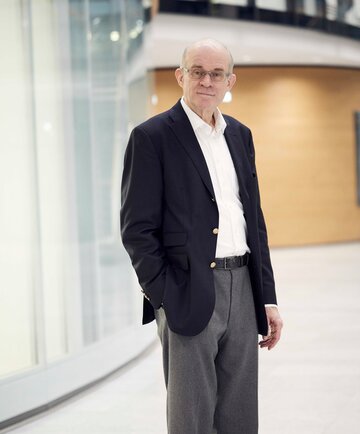 Old school? Perhaps; but still learning, and as keen as ever to add value
An ability to identify the invention and then capture in words the full potential of the concept underlying it has always been the key competence of a patent attorney. Though he didn't know it at the time, Roy Marsh began to develop that competence even before his first day at school.

Growing up on a large farm Roy was, even from a very early age, fascinated by the big machines outside. With his all-metal MECCANO® construction kit, a present for his 5th birthday, he worked tirelessly to model the construction and operation of these machines.

Later, at university, studying the physics of metals, the hallowed system of weekly tutorials further developed an emerging competence to explain a law of nature in a written essay, delivered on time and demonstrating a depth of understanding of the subject sufficient to satisfy the most demanding tutors.

Then, apprenticeship and training within a leading London patent law firm, under pre-EPC patent laws imposing the highest standards of precision, further honed Roy's powers of expression. The arrival of a pan-European patent office imposed another degree of need for textual clarity and precision, to get technical meaning accurately and fully across, not only to EPO Examiners hailing from all the EPC Member States but also to clients in Asia and North America.

The availability of enforceable patent rights is what encourages innovators to invest in their inventions and bring them to the market. Having a career-long predominance of clients in the field of medical devices has been for Roy a special privilege. Particularly evident in this special field of endeavour is the power of a properly functioning patent system to stimulate and accelerate technological advances that deliver to patients an enhanced quality of life. No wonder Roy is not yet ready to retire.
MA Oxford (St. Edmund Hall), Metallurgy and the Science of Materials
European Patent and Trademark Attorney
Chartered British Patent Attorney