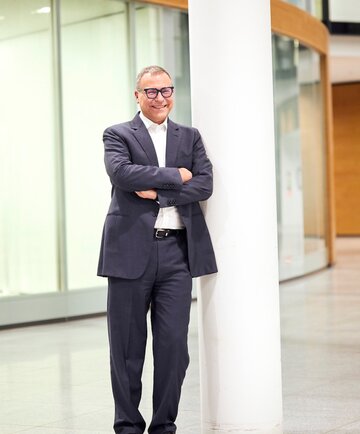 "Finis coronat opus" - Achieving optimal results together with clients.
Holger Folz has been an attorney-at-law since 1993 and joined HOFFMANN EITLE in 2001. Throughout his years as a partner in the patent litigation and licensing practice group, he has conducted a large number of national and cross-border patent infringement proceedings in various technical fields and often handles parallel patent nullity proceedings. He also advises clients, in particular medium-sized companies, in all areas of German and European patent law, supplementary protection certificates and related areas of antitrust law. Another focus of Holger's work is design law. In this field, he has conducted a large number of design infringement proceedings and design nullity proceedings both in Germany and before the EUIPO. In his day-to-day work, Holger communicates and negotiates in German and English.

After graduating with a degree in law and philosophy and following further studies in economics, Holger turned to intellectual property law. As a research assistant in the US department of the Max Planck Institute for Foreign and International Patent, Copyright and Competition Law (now the Max Planck Institute for Innovation and Competition) in Munich, he completed his doctorate on the interface between patent law and antitrust law under Professor Wolfgang Fikentscher. After a stint at the British law firm Herbert Smith (now Herbert Smith Freehills) in London, Holger went on to implement the knowledge he had gained, first working at Klaka Rechtsanwälte and at Grünecker before then joining HOFFMANN EITLE in 2001. Holger still has close ties to legal research, not least through his membership of the Max Plank Society and the International Association for Philosophy of Law and Social Philosophy.

Outside of his work, Holger likes to attend classical concerts, enjoys playing tennis and volleyball with colleagues, and is also a keen skier.
Munich Bar Association
AIPPPI
GRUR
LES
German-British Jurists' Association e.V.
Max Planck Society for the Advancement of Science e.V.
International Association for Philosophy of Law and Social Philosophy (IVR)
Studied law at the Ludwig-Maximilians-Universität, Munich – 1983 to 1988
First State Law Examination (District of the Higher Regional Court Munich) – 1988/89
Second State Examination in Law (District of the Higher Regional Court Munich) – 1992/93
Doctorate (Dr. iur.) under Prof. Wolfgang Fikentscher at the Ludwig-Maximilians-Universität, Munich, and the Max Planck Institute – 2001
Studied philosophy at the Munich School of Philosophy S.J. – 1983 to 1990
Baccalaureate – 1985
Master Artium in Philosophy – 1990
Studied Economics at the Ludwig-Maximilians-Universität, Munich, and the Distance-Learning University, Hagen – 1989 to 1999
Technologiegemeinschaft und Gruppenfreistellung, Cologne, 2002
Die Unterscheidung zwischen primären und sekundären Regeln im Werk von H. L. A. Hart, Munich, 1990
Regular presentations on patent, design, litigation and enforcement law