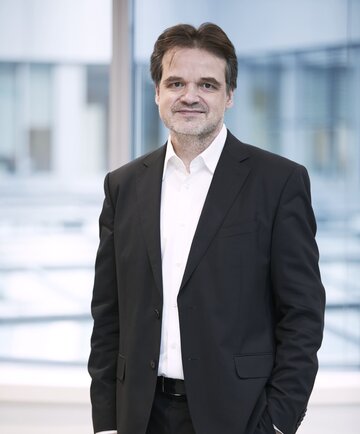 A lawyer who builds bridges
Dirk Schüßler-Langeheine has been a German attorney for over 20 years and is co-head of Hoffmann Eitle's Patent Litigation & Licensing practice group, together with Holger Stratmann. He has many years of experience as lead counsel in national and international patent enforcement and defence projects. He develops distinctive and effective enforcement and defence strategies tailored to the client's interests and the specific case, showing great expertise, full commitment and a good feel for what is possible in the implementation of these strategies. In this way, he has repeatedly contributed to the development of case law, laying the foundations for successful outcomes. For example, he brought about a ground-breaking change in case law to facilitate the enforcement of medical use claims, he conducted one of the first cross-border inspection proceedings abroad to enforce a German patent, and negotiated the first global mobile technology license for a client after successful litigation regarding standard-essential patents in Germany, which resulted in a number of further licences.

Dirk deems making connections and building bridges to be a major key to success:
As a litigator, he can take the technical and legal complexities of a case and create imaginative solutions, communicating in plain and compelling language.
As a coordinator of international disputes, he connects his clients with specialised teams of lawyers throughout Europe, ensuring the centrality of the essential interests of the client.
In contract negotiations, he mediates between personalities and cultures and leads deadlocked negotiations to successful conclusions.
As a mediator, he understands the specifics of the situation as well as the factual and personal interests of the parties involved. In this way he overcomes seemingly unbridgeable divides.
In his spare time, he enjoys reading, running and sailing. He also likes to play cards, especially bridge.
German Attorney-at-Law
Mediator