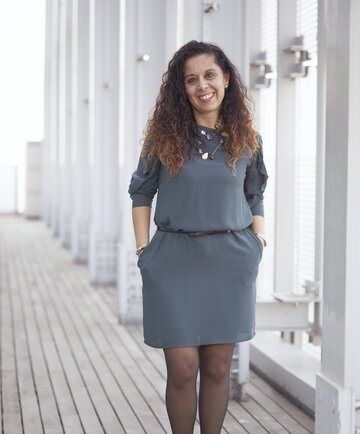 A passionate legal with an open view to new market challenges
Ersilia Caló works as a Legal Consultant in the Industrial Property area since 2000. After working for three years with a well-known US food and chemical-pharmaceutical multinational company in Marketing & Sales division, Ersilia achieved considerable experience in one of the most leading I.P. legal firms in Milan.

She is a qualified Italian and European trademark and design attorney since 2004 and is an expert in Italian, EU and international Trademark Law as well as an expert in copyright.

Ersilia offers legal advice on the management of trademarks, designs, copyrights and domain-names portfolios in Italy, the EU and worldwide for Italian and foreign clients.

Additionally, she offers legal, marketing, economic and financial advice for each phase of protection and defence of trademarks: from planning and creation, availability searches, monitoring of new filings and renewals, defence and prosecution through to registration; opposition, revocation and nullity actions; negotiating and drafting, through to conclusion, of coexistence, licensing, franchising, assignment and merger agreements.

Ersilia has extensive experience as a legal coordinator with external Law Firms in out-of-court matters and is also a legal coordinator in lawsuits based on infringement and unfair competition actions abroad.

Since 2010, she has been occasionally invited as an external lecturer on IP matters at the Politecnico of Milano (Department of Energy) and at the Pharmacy University in Milan.

She has been with HOFFMANN EITLE since 2016.

When taking a break from the world of IP, Ersilia is found travelling abroad. She loves spending time on the Mediterranean and on land with her family and friends, swimming, sailing or devoting herself to plants and flowers.
Master's degree (Laurea) in Law with specialization in I.P. - mentor Prof. Avv. Adriano Vanzetti, at the Università Cattolica del Sacro Cuore, Milan 1997
Admitted to the IP Bar of Italy – Trademark and Design section, Milan, (2004)
Master in International Contracts, at the Business School "Il Sole 24 Ore", Milan, 2016
Italian Trademark and Design Attorney
European Trademark and Design Attorney
Italian IP Attorneys Bar - Trademarks section
EUIPO (European Union Intellectual Property Office), Trademarks and Designs Section
WIPO (World Intellectual Property Organization), Trademarks Section
INTA (International Trademark Association)
MARQUES (Association of European Trade Mark Owners)
LES
"Certification marks" (2007), degree thesis, referee Prof. Avv. Adriano Vanzetti, Università Cattolica del Sacro Cuore, Milan
"Trademark Availability Searches, in Franco Angeli (ed.) Wedding Planner, Edizioni Franco Angeli (Milan, 2007)