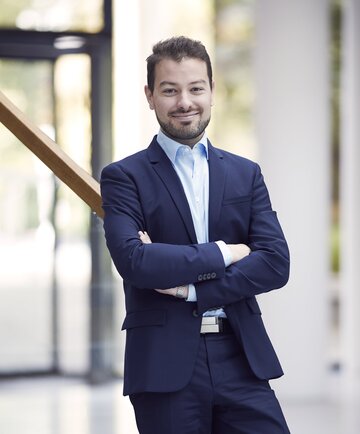 Leaving no stone unturned to provide you with the best strategy for your IP portfolio
Friedrich Sachs, German and European Patent Attorney, works in HOFFMANN EITLE's biotechnology practice group. Friedrich's focus is on regenerative medicine and cell therapy, short/long non-coding RNAs and nucleic acid-based therapeutics, as well as on genome engineering, next-generation sequencing, and their interplay with bioinformatic approaches. He is always interested in technology across different fields of science and greatly enjoys working on interdisciplinary subject matter, in particular in the field of super-resolution microscopy and molecular imaging.

Friedrich has been involved with prosecution and opposition proceedings before the European Patent Office, nullity proceedings before the German Federal Patent Court, and applications for supplementary protection certifications before the German Patent and Trademark Office.

Prior to joining HOFFMANN EITLE as a patent attorney trainee in 2017, Friedrich earned his Diploma degree from the University of Munich (LMU) with a specialization in the field of super-resolution live-cell microscopy. During his studies, he temporarily moved to Singapore for a research internship at the Institute for Bioengineering and Nanotechnology, where he gained hands-on experience with molecular design, e.g. in aptamer selection. After obtaining his degree in Munich, Friedrich returned to Singapore for his Ph.D. studies in stem cell biology, with a focus on RNA biology. His Ph.D. thesis was based on the identification and functional characterization of novel endogenous retrovirus-derived regulatory non-coding RNAs in human and primate pluripotent stem cells. Working within a large interdisciplinary biomedical hub, Friedrich used this opportunity to further his knowledge and practical experience in related fields, e.g. bioinformatics, biophysics, and high-throughput technology.

In his free time, Friedrich enjoys cycling on and off-road, studying languages, and travelling to experience new cultures. Singapore and its people have a special place in his heart, and he will use any excuse to travel there.
German Patent Attorney Bar Association
epi
Ph.D., National University of Singapore, School of Medicine, Faculty of Biochemistry / Genome Institute of Singapore (Agency for Science, Technology and Research)
Diploma in Biology, University of Munich (LMU)
German Patent Attorney
European Patent Attorney