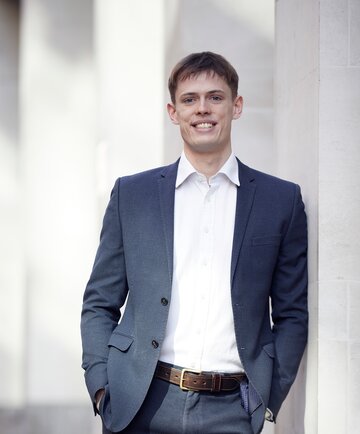 A driven engineer who focuses on understanding the technology, as this delivers the best results
A recent joiner to the Electrical Engineering and Digital Technologies practice group in HOFFMANN EITLE's London office, John particularly enjoys thoroughly analysing the details of each case and applying his analytical skills to deliver optimum results for the client.

John studied for his master's degree in Electrical and Information Engineering at St John's College, University of Cambridge. Specialising in areas including Machine and Deep Learning, Photonic and RF Systems, Optical Fibres and Quantum and Nano Technologies, his master's project was titled "Quantum Key Distribution", which focussed on issues arising from spectral overlapping of the data and quantum channels in practical implementations of multi-channel discrete variable QKD systems.

Outside of HOFFMANN EITLE, John pursues a career as an Officer in the Army Reserve, with the Royal Electrical and Mechanical Engineers. This allows him to develop his leadership and management skillsets, which are invaluable in a professional setting.

In his spare time, John enjoys hiking, bouldering, weight training and skiing. He sits as a member of the Young Professionals Panel at the Institute of Electronics.
MEng, , University of Cambridge, St John's College
BA, University of Cambridge, St John's College