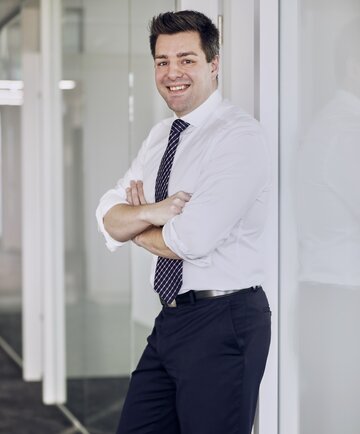 H. Jeremias V. Wollschlaeger
An abstract understanding is his key to success
Trained as a physicist, Jeremias Wollschlaeger sees the key to success for his clients in understanding their inventions on a deep conceptual level. While working with clients from various fields, Jeremias always tries to extract the core problems of a case in order to devise a solution. At the same time, he is dedicated to providing advice with a view on the clients' most pertinent practical needs.

Having spent a year in highschool in Portland, Oregon, Jeremias is particularly interested in establishing and entertaining connections with clients and counsel based in the United States. Communicating intricacies of European patent law and translating US-specific concepts into viable strategies are his main interests here.

Prior to joining HOFFMANN EITLE, Jeremias studied Physics at the Technical University (RWTH) in Aachen with a final thesis at the Fraunhofer Institute for Laser Technology (ILT) on laser processing (laser fusion cutting). He then was a scientific staff member at the Welding and Joining Institute of RWTH, which gave him a deep understanding in communicating with people from various academic as well as cultural backgrounds and now greatly assists his practice.

In the summer, you find Jeremias taking his motorcycle for a ride on the Nürburgring, and in the winter, you can find him in his wood shop.
Dipl.-Phys., RWTH Aachen University
German Patent Attorney Bar Association
epi
FICPI
AIPLA
DPG
AKL