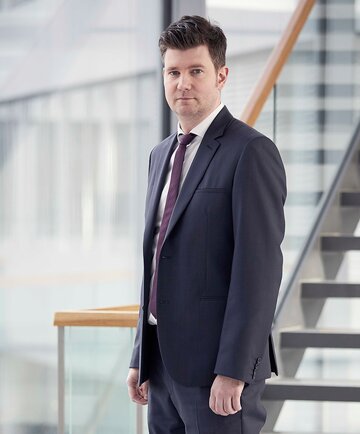 Thomas Wyder is triple qualified, as a European, German, and Dutch Patent Attorney. He is a partner in HOFFMANN EITLE´s mechanical engineering practice group. For more than 10 years, he has been advising clients on patent prosecution and litigation in a wide variety of technical fields such as energy technology, applied (quantum and classical) physics, automotive technology, food technology, agricultural technology, and information technology. He also lectures on patent law at a Swiss University.

Clients turn to Thomas for his legal experience in advising on multijurisdictional prosecution and litigation and for his knowledge in technology and science. Thomas is eager to represent clients while aiming for the highest level of quality.

Before joining HOFFMANN EITLE in 2012, Thomas worked for Howrey LLP in Amsterdam (The Netherlands). He was awarded a Ph.D. thesis by the University of Leuven (Belgium), where he worked on black holes in string theory/quantum gravity. He studied physics at the University of Bern (Switzerland), where he wrote a thesis in quantum field theory.

Thomas is a Swiss, a German, and a British Citizen. He speaks German, English, Dutch, Italian, and French. He is keen to get to know and learn from different people and cultures.
German Patent Attorney Bar Association
epi
"Orde van Octrooigemachtigden" (NL)
SWD (Swiss/German economy club)
University of Bern (Switzerland) – Master of Physics (2005)
University of Leuven (Belgium) – Ph.D. in Physics (2009)
German Patent Attorney
Dutch Patent Attorney
European Patent Attorney